DirectAdmin Reseller Hosting
Reseller Hosting based on Direct Admin, an extremely quick, lightweight control panel. Featuring Litespeed, NVMe SSD's, Softaculous, CloudLinux, Free SSL Certificates, Jetbackup and more!
Replace cPanel and save on costs with plans starting at only £2.70/mo on the world's fastest growing control panel.
Direct Admin Control Panel
Free SSL Certificates
NVMe SSD Storage
Premium Site Builder
Reseller Hosting Plans with DirectAdmin
Get access to the ever-evolving Direct Admin control panel, featuring Litespeed, NVMe SSD Drives, Sitepad Website Builder and more!
DirectAdmin Reseller Hosting with tons of premium features
Direct Admin is a feature-rich, lightweight web hosting control panel that is only recently beginning to take the web hosting world by storm. Direct Admin is extremely affordable when compared to cPanel and has numerous unique features, including all the applications you are used too such as Jetbackup, Softaculous, Sitepad, CloudLinux, Litespeed and more!
A familiar User Interface
All our Direct Admin reseller accounts come with an easy-to-use standard icon-grid layout, instinctively similar to cPanel's layout making your transition as smooth as possible. Applications can be accessed easily and instantly, all on a single user interface page.
Direct Admin also allows resellers to choose between 4 different theme layouts and the ability to modify colors, logo, and applications of the user interface, allowing maximum customizability for your brand.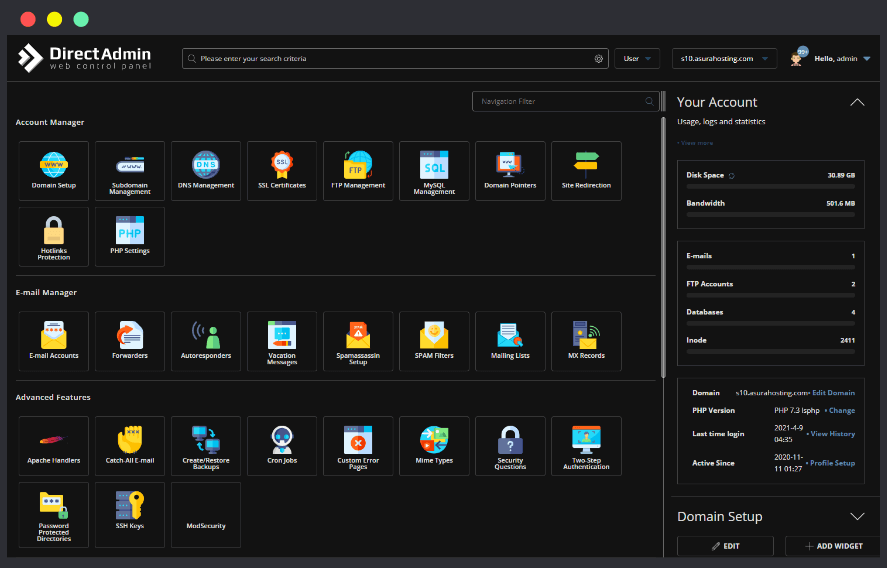 Free Migrations to Asura Hosting
Coming from another web hosting provider or a totally different control panel? We have a dedicated migrations department to help you migrate over to our Direct Admin Reseller Hosting platform, completely free of charge.
Our migrations team has done thousands of migrations to date. Migrations also include all your previous data, so all your old emails, databases and files will be exactly as they were previously once fully migrated over.
DirectAdmin also fully supports the conversion of cPanel accounts, so migrating from cPanel into DirectAdmin is seamless and quick.
Optional WHMCS or Blesta License
We are a direct partner with WHMCS, allowing us to sell licenses at extremely affordable rates and up to 60% cheaper than retail pricing. Easily add a full-fledged WHMCS or Blesta license to any reseller hosting account for as low as £8.19/mo during checkout.

£2.45/mo

£8.19/mo
Clean-cut pricing without renewal gimmicks
No renewal hikes, period! The initial price you pay will be your renewal price. We don't practice any shady renewal pricing gimmicks and keep our reseller hosting pricing structure as transparent as possible.
Our initial price is our renewal price and has been that way since our inception!
Remote Backups by JetBackup
Get free access to Daily or Weekly remote account backups depending on your Reseller Hosting plan. All our remote backups are stored completely offsite and in a different datacenter, protecting your data from direct datacenter disaster, data corruption or accidental user error.
Your users will also gain access to JetBackup directly, allowing them to download, restore and manage their own remote backups.
Offer your users Softaculous
Give your users access to Softaculous, an easy to use 1 click installer that offers fast real-time auto installing of any of the 400+ applications in one click, straight from our control panel. This includes applications such as WordPress, Joomla, WHMCS, Magento, PrestaShop, Dolphin, Drupal, SMF and 400+ more!
Customer Reviews
Customer reviews are always of utmost importance. We always take the feedback we get from our client base into consideration and try improve upon our product/service, an aspect we find extremely important - especially in the ever-changing web hosting industry.
Litespeed Enabled
All our servers run on Litespeed, an extremely fast drop-in replacement for Apache. This allows our servers to run almost 3 times faster than standard Apache, while having more features.
Fully Customizable
Direct Admin offers resellers the ability to fully customize their user's control panel. Disable Or Enable applications, Change colors, Choose control panel layout, set logos and more!
Integrated Ticketing System
Direct Admin comes with a built-in ticketing system for resellers to make use of, allowing your users to directly submit tickets through their control panel without making use of any third-party applications.
SitePad Website Builder
Every Hosting account you create will have access to Sitepad, a premium drag-and-drop website builder with over 200+ premium themes and widgets.
Free SSL Certificates
Your reseller account comes with the ability for your customers to install 2048-bit SSL certificates for their websites, free of charge! SSL Certificates are completely unlimited and can be assigned to as many domains as you host.
Upgrade at any time
Directly upgrade your account at any time within our Client Area. Upgrades are pro-rata priced, so you never lose value on the amount you have already paid.
99.9% Uptime
Our servers are optimized with the latest software and are only hosted within the best datacenters, allowing us to achieve our 99.9% uptime guarantee.
Easily Make Payment
We support 3 different methods of payment on our platform including Bitcoin, Direct Credit/Debit card payment with Stripe and PayPal.
30-Day Refund Policy
We believe that you should get the service that you pay for or we don't deserve your money. We will refund your payment within the first 30 days if you are not happy with our product or service.
What is DirectAdmin?
DirectAdmin is an extremely lightweight and easy-to-use website hosting control panel. It has only recently started gaining traction due to its affordability and is starting to become the industry standard over regular cPanel. It offers an intuitive user-interface with DNS Management, File Management, Database Management and more! DirectAdmin also comes with all the added extra addons that your used too like Softaculous, Jetbackup, Etc.
Frequently Asked Questions
Direct Admin natively supports cPanel migrations, so it is easy to migrate to Direct Admin from cPanel. There are also no drawbacks, your migrated hosting account on Direct Admin will be exactly the same as it was on cPanel.
Direct Admin is more affordable because cPanel charge on a per-account basis while Direct Admin does not. cPanel also increase their licensing pricing on a yearly basis.
Yes we do! You can simply install them within Wordpress, Joomla, etc and they'll automatically be configured with our Litespeed Web Server.
All reseller hosting plans can be paid for in 3 years advance. Also, when paying for longer contracts we offer discounted prices, usually around 20-40% depending on the length.
Yes, all the plugins we run on our cPanel based reseller plans we also run on our Direct Admin plans. Jetbackup, Sitepad, Softaculous, etc are all supported by Direct Admin.
We prefer Direct Admin for a lot of reasons, mainly cost, ease-of-use and it being extremely lightweight so you benefit from added server performance. cPanel tends to be pricey and unpredictable.
As long as you have an active license key for either platform with us, we can install it for you on request.
DirectAdmin offers a lot of customizations for reseller accounts. You can customize the control panel's logo, layout, colors and even the control panel's icons/links.