Cheap Joomla Hosting
Run and Install Joomla within seconds with our specialized Joomla based hosting, featuring super fast Solid State Drives to fasten your database access speeds by up to 600%.
99.9% Uptime
Enterprise Litespeed
NVMe SSD Storage
Anti-DDoS Protection
Up to 6x Quicker data access
Joomla with LSCache
Joomla Specialized
Backups by JetBackup
Web Hosting plans for Joomla
Host your website on a server optimized to run Joomla (CMS) based applications.

Included with all our Joomla Hosting plans
Features to suit Joomla in the best way possible. All our hosting plans come freely with Litespeed, NVMe, Free SSL Certificates and a lot more! Listed below is all our most popular features we include with every Joomla Hosting plan, at no additional cost. We're also on hand 24/7 to help you with whatever issue you might run into with your Joomla installation.
Fully Cache Joomla with Litespeed
We feature Litespeed with all our Joomla based hosting plans, allowing you to easily use their free-to-use cache plugin specifically made for Joomla. Since caching is done on the Litespeed Webserver directly, your not only speeding up your website considerably but you will also reduce your total account resource consumption.
This will ultimately help you push more traffic to your website as you will have access to a lot more resources than a standard Joomla installation.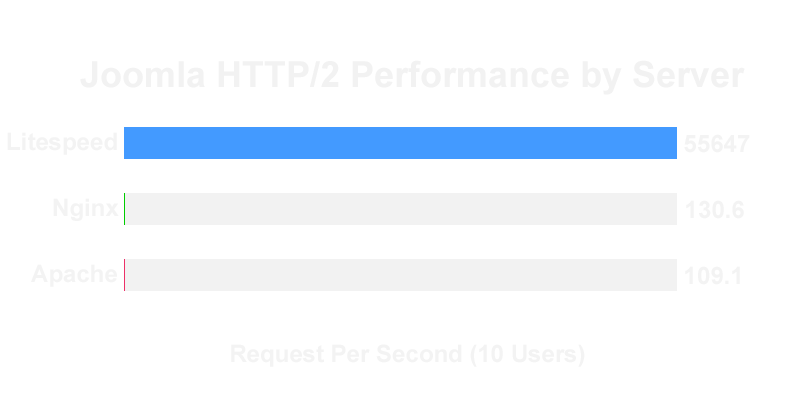 Instant Data Access, at all times.
100% NVMe SSD storage based drives, allowing your Joomla installation to blow almost any speed test out of the water with near-instantaneous data access. NVMe SSD's also features disk writing speeds above 2GB/s, which is almost 5x faster than traditional SSD.
Joomla, install, go!
No need to go through the extensive installation process anymore, with our Joomla hosting plans you'll get access to Softaculous, an easy to use application installer allowing you to install Joomla in a single click.
Softaculous also allows you to schedule Automatic Joomla Upgrades, Configure Installation Details, Set security patch notifications and more!
Servers powered by AMD EPYC
All our servers run on AMD EPYC Rome Processors, currently the fastest server processors available with up to 3x performance over older processors. We run these processors on top of NVMe SSD Drives & Litespeed, allowing our web hosting plans to achieve maximum performance for both Dynamic and Static content.
Choose your Control Panel
All our Joomla Hosting plans come with the ability to easily select the preferred control panel of your choice. We currently offer both cPanel and Direct Admin, two of the most used web hosting control panels on the internet.
Both supported control panels feature similar user interfaces and have exactly the same feature set including Softaculous, SitePad Website Builder, Litespeed and Cloud Linux.
Control Panel
Control Panel
Customer Reviews
Customer reviews are always of utmost importance. We always take the feedback we get from our client base into consideration and try improve upon our product/service, an aspect we find extremely important - especially in the ever-changing web hosting industry.
99.9% Uptime
Our servers are optimized with the latest software and are only hosted within the best datacenters, allowing us to achieve our 99.9% uptime guarantee.
Free SSL Certificates
We offer unlimited free SSL certificates with all our Joomla based hosting plans. Simply install a full-fledged 2048-bit SSL certificate right within your control panel, free of charge.
500% Quicker Data Access
All our web hosting servers use NVMe SSD technology, this fastens your website page load times by up to 500%. This is especially important for database driven sites such as Joomla.
30-Day Refund Policy
We believe that you should get the service that you pay for or we don't deserve your money. We will refund your payment within the first 30 days if you are not happy with our product or service.
What is Joomla?
Joomla describes itself as a user friendly platform that is one of the webs most popular content management systems (CMS), it allows you to easily manage and publish your content all within a central easy-to-use interface.
Apart from that, Joomla is completely free, open-source and has one of the biggest communities around which all contribute free to use themes, plugins and more!
Easily Customizable
Joomla has no restrictions, your free to install, customize and automate your Joomla installation to its full potential.
SEO Tools
Joomla has tools to help optimize your website, with metadata and keyword customization, Robot Support, Mod-Rewrite support for simple URL's and more!
Free & Open Source
Joomla is both created and maintained by volunteers as well as its vibrant community that help with suggestions and bug fixes. Due to its open source nature, Joomla is also completely free to use.
Not just a CMS
Joomla is not only a CMS but also a highly efficient, lightweight PHP framework that can also be used to write powerful PHP based applications.
Extensive Documentation
Joomla has one of the most in-depth documentation's of any CMS, and has forum filled with useful questions and information.
Article Management
Easily manage your content with publishing tools, content versioning, drag-and-drop image placements and more!
Fully Integrated Banners to Monetize your Joomla website
Built-in messaging system for Administrators
Over 70+ languages supported
Highly customizable with over 7000 Plugins to choose from
Integrated Help System to help guide you through Joomla
Hassle-free updating and security management
Full set of Access Control List tools for Users & Admins
Thousands of fully customizable themes and templates
Frequently Asked Questions
A list of our most frequent questions regarding our Joomla Hosting plans.
No, Joomla can easily be installed through Softaculous. Softaculous allows you to easily install Joomla with a single click, no prior knowledge is required.
Yes you can, Joomla features a large free plugins directory and have a vibrant developer community constantly updating and contributing to the directory.
Yes, you can use any domain with our service regardless of where it's registered.
Yes - Simply submit a ticket to our Support department once you have a web hosting plan and we'll help install Joomla on your URL of choice.
Yes, we offer account migrations free of charge. Simply open a support ticket once you have a hosting account and we can migrate it over for you within minutes.
Yes! Joomla is packed full of easy to use tools, plugins, themes, etc to help you build your first website. No prior technical knowledge is required, simply choose a theme of your choice and get started immediately.
We use both Direct Admin and cPanel for our web hosting plans. You can choose which control panel you would like to use by toggling the Control Panel Button above the plans list to choose between either Direct Admin or cPanel.
Yes, you can fully set up automated updates with Softaculous within your hosting account for Joomla. Softaculous allows you to update in a single click, and notify you via email when a new update is available.