Cheap Drupal Hosting
Run and Install Drupal, a PHP based Content Management System within seconds with our specialized Drupal based hosting, 100% powered by Litespeed and NVMe Drives.
99.9% Uptime
Enterprise Litespeed
NVMe SSD Storage
Anti-DDoS Protection
Up to 6x Quicker data access
Drupal with LSCache
Drupal Optimized
Backups by JetBackup
Web Hosting plans for Drupal
Install Drupal within seconds on our lightning fast NVMe & Litespeed powered servers.

Feature-Packed Drupal Hosting plans at only £0.82/mo
Our Drupal Hosting plans have been running since 2013, over a span of nearly 6 years we have been working, configuring and optimizing Drupal based websites allowing us to garner an immense amount of experience for the platform. We used that exact experience to create some of the most optimized web hosting plans for Drupal, featuring NVMe SSD drives, Litespeed and server-side caching to boost your Drupal's speed by ten-fold.
Fully Cache Drupal with Litespeed
As we run all our Drupal Hosting plans on Litespeed, you have the ability to freely use Litespeed's built-in LSCache module for Drupal to both cache static and dynamic content on our server's cache, allowing you to both speed up your Drupal website and benefit from reduced resource usage.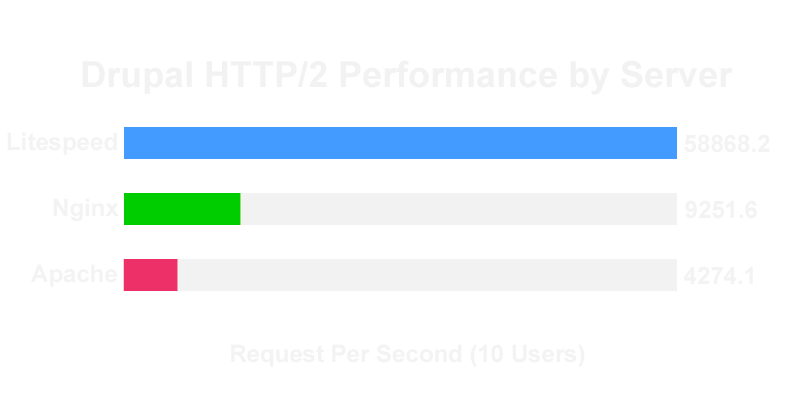 A Quicker, Faster Drupal
The days of using outdated Hard Disk Drives is over. All our Drupal Hosting plans make use of NVMe Solid State Drives, allowing your Drupal website to achieve almost instant database access.
We also feature Litespeed, an extremely quick drop-in replacement for Apache that adds even faster dynamic content rendering times which Drupal benefits greatly from.
Install Drupal in Seconds
All our Drupal hosting plans come equipped with Softaculous. An extremely intuitive plugin that offers fast real-time auto installing of Drupal and another 400+ applications with a single click.
It also allows you to easily manage your Drupal installation from a central interface, allowing you to manage your installation and configure automatic upgrades.
Servers powered by AMD EPYC
All our servers run on AMD EPYC Rome Processors, currently the fastest server processors available with up to 3x performance over older processors. We run these processors on top of NVMe SSD Drives & Litespeed, allowing our web hosting plans to achieve maximum performance for both Dynamic and Static content.
Choose your Control Panel
All our Drupal Hosting plans come with the ability to easily select the preferred control panel of your choice. We currently offer both cPanel and Direct Admin, two of the most used web hosting control panels on the internet.
Both supported control panels feature similar user interfaces and have exactly the same feature set including Softaculous, SitePad Website Builder, Litespeed and Cloud Linux.
Control Panel
Control Panel
Customer Reviews
Customer reviews are always of utmost importance. We always take the feedback we get from our client base into consideration and try improve upon our product/service, an aspect we find extremely important - especially in the ever-changing web hosting industry.
99.9% Uptime
Our servers are optimized with the latest software and are only hosted within the best datacenters, allowing us to achieve our 99.9% uptime guarantee.
Free SSL Certificates
We offer unlimited free SSL certificates with all our Drupal based hosting plans. Simply install a full-fledged 2048-bit SSL certificate right within your control panel, free of charge.
500% Quicker Data Access
All our web hosting servers use NVMe SSD technology, this fastens your website page load times by up to 500%. This is especially important for database driven sites such as Drupal.
30-Day Refund Policy
We believe that you should get the service that you pay for or we don't deserve your money. We will refund your payment within the first 30 days if you are not happy with our product or service.
What is Drupal?
Drupal is an open-source content management system written in PHP. It is also widely used to develop integrated digital frameworks and can be extended with thousands of free plugins and themes. What sets Drupal apart is its ability to easily integrate with external applications, something that most content management systems cannot do.
Currently Drupal accounts for 2.4% of all websites on the internet, due to its ease of use and vibrant community - The Drupal community also feature "starter-kits" for new website owners, that allows you to easily set up your website on drupal with just a few clicks.
Dedicated Security Team
Drupal has its own dedicated security team, maintaining security updates and patches on a regular basis, making Drupal one of the most secure CMS's around.
Extremely Fast with BigPipe
Drupal comes freely built with a unique plugin called BigPipe, serving content extremely fast using its own piping method for content. This in turn helps with SEO efforts as well as visitor bounce rates.
Free & Open Source
Drupal is both created and maintained by volunteers as well as its vibrant community that help with suggestions and bug fixes. Due to its open source nature, Drupal is also completely free to use.
eCommerce Ready
Drupal is fully eCommerce ready allowing you to integrate carts, checkouts and popular payment gateways like PayPal, Stripe and Square.
Core Flexibility
Drupal can also be used for almost any sort of website and has a wide range of use cases. Some of the most popular industries include Education, FinTech, Non-Profits, Travel, Sports and even Government Organizations make use of Drupal.
Mobile First
Drupal was developed with a mobile-first approach and provides an excellent mobile experience with themes and user-interfaces being fully mobile responsive.
Frequently Asked Questions
A list of our most frequent questions regarding our Drupal Hosting plans.
No, Drupal can easily be installed through Softaculous. Softaculous allows you to easily install Joomla with a single click, no prior knowledge is required.
Yes you can, Drupal features a large free plugins directory and have a vibrant developer community constantly updating and contributing to the directory.
Yes, you can use any domain with our service regardless of where it's registered.
Yes - Simply submit a ticket to our Support department once you have a web hosting plan and we'll help install Drupal on your URL of choice.
Yes, we offer account migrations free of charge. Simply open a support ticket once you have a hosting account and we can migrate it over for you within minutes.
Yes! Our web hosting plans come with full Drupal management that can be accessed via Softaculous. Get notifications when new updates for Drupal are available as well as the ability to make updates fully automated, so your drupal stays automatically updated at all times.
We use both Direct Admin and cPanel for our web hosting plans. You can choose which control panel you would like to use by toggling the Control Panel Button above the plans list to choose between either Direct Admin or cPanel.
Yes, we allow you to choose PHP versions from 5.6 to 8.0. We use CloudLinux, so you have the ability to enable/disable PHP functions, extensions and PHP options directly in your hosting account.